Ideal winter pleasure in Corona times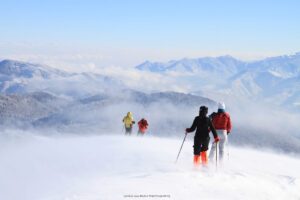 An ordinary winter holiday with queues at the lift and overcrowded après-ski huts – that is not necessarily the case in Corona times. There is now an alternative: snowshoeing in the Kazbek-area and thus on the balcony of Europe. This trip is offered by the Hotel Alpenhaus in Stepantzminda, which is run by the team from the Tbilisi restaurant "Rainer's Cafe". The guests are picked up in Tbilisi and brought back in own 4×4 minibuses (Mitsubishi Delicas for a maximum of six guests). All drivers, guides and service staff are vaccinated, but still do a quick test every 72 hours. From a travel group of 12 people, the hotel can be booked exclusively in good time, so that there is no contact with other guests. In order to avoid unnecessary gatherings of people during outdoor sports, there are guided snowshoe hikes in the fascinating mountains of the Greater Caucasus. More precautionary measures in these Corona times is hardly possible. And no more original winter fun either. Group trips from January to March 2022, either to be booked as a weekend trip or for several days. Inquiry and booking:
Prices weekend-offer per person:
Group size 2 people: 1.460,– GEL
Group size 3 people: 1.230,– GEL
Group size 4 people: 1.060,– GEL
Group size 5 people: 970,– GEL
Group size 6 people: 900,– GEL
Single room surcharge: 100,– GEL
Prices include transfer from / to Tbilisi, two nights with full board, snowshoes and hiking guide. Prices for longer stays on request.
Booking: s.gugunishvili@kazbek-alpenhaus.com